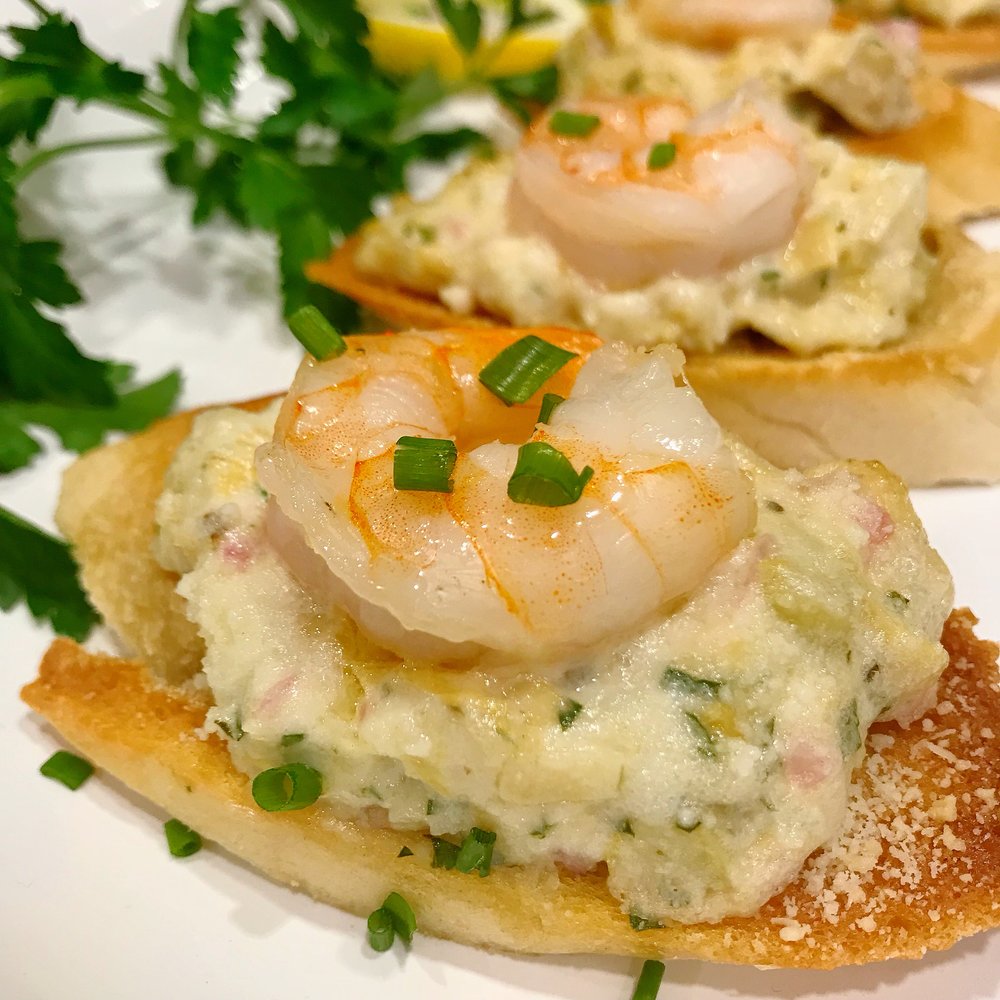 I recently began cleaning out large piles of papers from plastic bins that I have collected throughout the last couple of decades. So many of the bins were filled with various nursing school books and notebooks, novels read (or should I admit more that were unread lol), plus tons of special photographs that I have collected throughout the many years of happy living.
As I plowed through the abundant special memory items in which I had saved, I came across this little printed cookbook that I hadn't laid eyes on in years. As I paged through it excitedly, I happened to find an original recipe of mine that I had given to a local elementary school for their Mother's Day cookbook distribution in the community in the year 2000. What an amazing find!!
I actually have vivid memories of making this recipe often for the many functions that I hosted in my home or on site throughout the years. I read through my original recipe that was printed in the book, that I called "Shrimp and Artichoke Bruschetta". I felt really proud reading my recipe as I was reflecting back to days gone by, as it was a glimpse into my artistic and culinary interests that were developing slowly back nearly twenty years ago.
I actually used to host huge gatherings a lot, and invite the entire neighborhood into my home for an evening of fun, friends, lovely wines, candlelight ambiance, music, and especially to get to cook for the masses lots of cool gourmet foods that excited and fulfilled my intense artistic interests. I would literally spend hours and days planning a custom all homemade and from scratch menu, for even the simplest of events. I still do this to this day. I routinely research ingredients I've never worked with but long to, or research at length advanced techniques that top chef professionals in the culinary world use when they entertain. It was such a fun challenge for me as a home cook, and even now too as a professional in the culinary industry.
Back in 2000 when I cooked gourmet foods for family, friends, or charitable groups like Habitat for Humanity key awarding ceremonies, I truly loved expressing myself with food, advanced techniques, and food styling. In doing this grand planning and entertaining, I also created quite a funny stir in the neighborhood and community. I used to get joked about my elaborate entertaining style, and I earned the nickname "Martha" by many back then for my distinct efforts like the icon Martha Stuart, haha. Neighbors today tell me that they could not believe all the work I put into my entertaining back then, in making fancy gourmet dishes in huge quantities, all by myself, for even the simplest of gatherings. I can't even describe how many times I have been teased in a loving way for making my homemade Maple Glazed Carrot Curl Shavings to top the gourmet spiced Carrot Cupcakes I served to a small group of guys for their very casual poker night they had, or my making Mini Lump Maryland Crab Cakes with homemade red pepper Remoulade sauce and Saffron Rice for our neighborhood playgroup get-togethers with our toddlers running around! Haha, GREAT memories!!
I have saved every menu-planning, hand-written document or sketch from my entire adult life of entertaining. I have piles of papers in my collections from my early days as an enthusiastic self taught gourmet cook, to my now professionally trained chef sketches and contemplations for ingredient fusions and intricate architectural plating ideas. I'm really sentimental, so I see these culinary notes of mine as a beautiful diary of my growth into a chef that I was unknowingly headed towards. It also shows my uniqueness as an artist, who always used creativity and art as vitally important elements to express my inner voice, my vivid culinary visions, and most importantly my own artistic form of emotional expression.
My saved entertaining notes of food I served are all dated like a true detail oriented person that I always have been. Must be the nurse inside me coming through too haha. My notes meticulously include my food development ideas and contemplations for large group entertaining in the neighborhood, family gatherings for holidays I hosted, kids birthday parties, kids book club meetings I founded (and have been featured in the newspaper for this several times), my donations of gourmet food to serve and tablescaping for Habitat For Humanity's special key awarding ceremonies to families being given homes, and many other special events I was involved in with the community. I just can't believe all I used to do when raising a family and being a nurse, but I smile with pride at all I've accomplished. Remember that this was all done long before the aid of YouTube, Google, or Pinterest were invented!
So, here's my Vintage Jill recipe from the year 2000, left unchanged, and still as relevant and delicious today as it was back then. Send me feedback via email here of your thoughts or memories of my cooking and entertaining you may remember, or of your entertaining experiences as well. I also would love to know what you think of this vintage recipe if you decide to make it! Thanks for going through this fun culinary journey with me!
Prep: 15 minutes
Completion: 30 mins or less
Serves: 15 pieces
Ingredients:
Mayonnaise, Hellman's brand, 1 cup
Red Onion ¼ cup finely chopped
Romano Cheese 1 cup grated
Parsley, fresh, 2 Tbsp finely chopped, plus small amount whole for garnishing
Artichoke Hearts marinated, 24 oz, drained and chopped small
Lemon juice, fresh, 1 Tbsp
French Bread, sliced thin, toasted with olive oil, 15 pieces
Olive oil 3 Tbsp
Shrimp, 31-40 count size, fully cooked, 15 pieces
Optional Hot sauce (any personal favorite), if prefer heat
Optional Green Onion, diced small for garnish
Let's Get Cooking:
Begin by preheating oven for low heat broiler use.
Mix together mayo, red onions, ¾ cup Romano cheese, chopped parsley, artichokes, and lemon juice.
Set aside.
Slice French bread into 15 thin slices, and brush them lightly with olive oil. Toast them until lightly golden in broiler on LOW on a cookie sheet (watch them closely so they don't over cook). Once toasted, remove from oven.
Place one heaping tablespoon of artichoke mixture onto toasted bread slices, and then an additional sprinkle of Romano cheese. Finish by topping each bruschetta with one cooked shrimp. Broil on low, approx. 5 minutes or until artichoke mixture is hot and bubbly and the shrimp is warmed through. Can also be baked at 350 F, cooked approx. 5 minutes or until bubbly and heated through. Garnish with green onions on top if desired.
Serve immediately and watch them disappear fast!