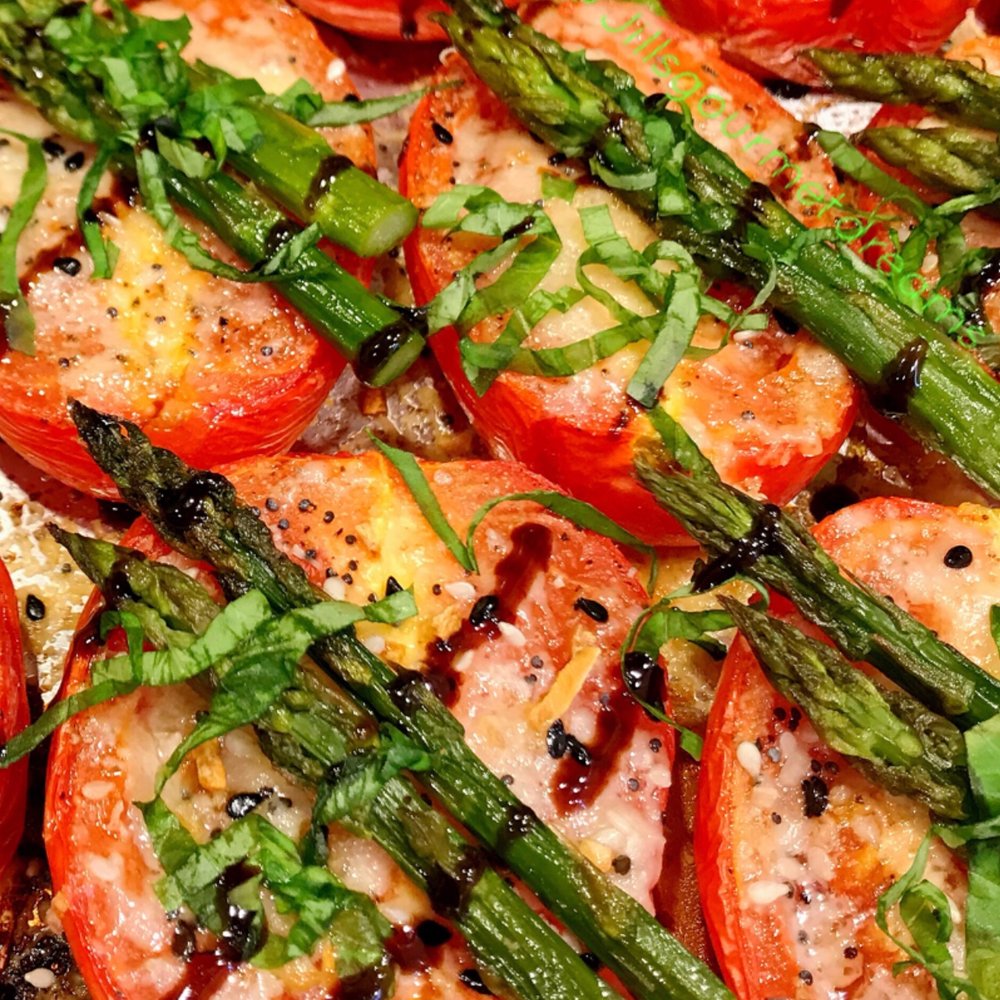 Really impress your friends and family when you make my beautiful little red bites of happiness and gourmet flavor! They not only say that you put extra care in making something really special for your guests, but it also gives them something nutritious and healthy for their bodies too. Use organic ingredients and really add optimal health benefits to this dish!
It's a no guilt side dish, or vegetarian main dish, by pairing it for an entrée with your favorite whole grain rice, beans, or other steamed veggies. You could even serve these roasted plum tomatoes sandwich-style on gorgeous thick sliced crusty Italian bread, rubbed rustically with fresh cut garlic for an authentic European taste. Also consider adding some lovely fresh sliced Italian mozzarella to the sandwich as well… I'm telling you, Mouth Heaven! Or add a protein like chicken or fish to it for a heartier meal all around if you prefer. Whatever you do with these lovely roasted tomatoes, I guarantee that you won't be disappointed with how easy and gorgeously satisfying this little recipe is!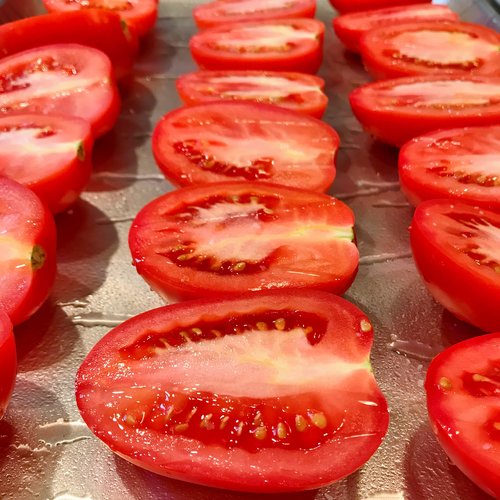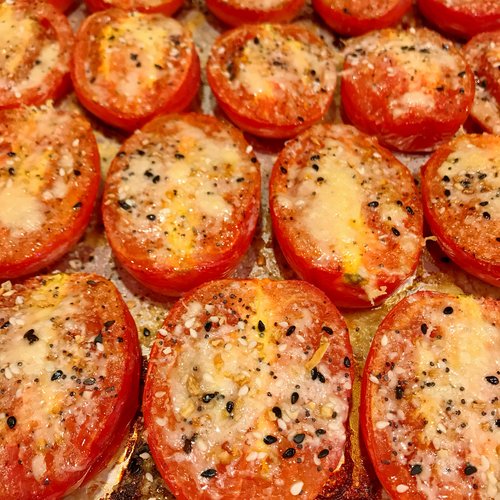 I truly love adding fresh rubbed garlic onto crusty bread, as I first learned how to do this properly from my beloved German stepfather when I was just a little girl. He always loved to cook for the family, and cook he did! He used to make us so many amazing authentic German foods from his cherished upbringing of being born and raised by parents who had a busy working farm in a small town in Germany. They ate what they grew and raised, and boy did he enjoy reminiscing and telling us stories about his life and the hard living he had back in old Europe.
Regarding rubbed garlic, he often showed me how I needed to cut the garlic clove right in half with a sharp knife, and simply grab hold of it sternly and rub it with force down onto the breads inner white surface. I would watch him demonstrate this technique to me over and over; as he knew I was taking in every fine detail he was generously lending me. I watched him use his extra-large and very weathered hands to pinch this tiny piece of garlic between his big fingers, before he executed his rub technique to me. What an indelible impression he made with these mini cooking lessons all throughout my life. He always emphasized that in doing this one important garlic rubbing step, that it would totally maximize the taste of his absolute favorite snack and major food group in his diet, crusty bread, lol. From this incredibly fond memory I have locked inside my mind and heart, I now always try to remember to do this rough and stout garlic rubbing to all my crusty breads in his honor… truly a treasured memory I love so much to relive.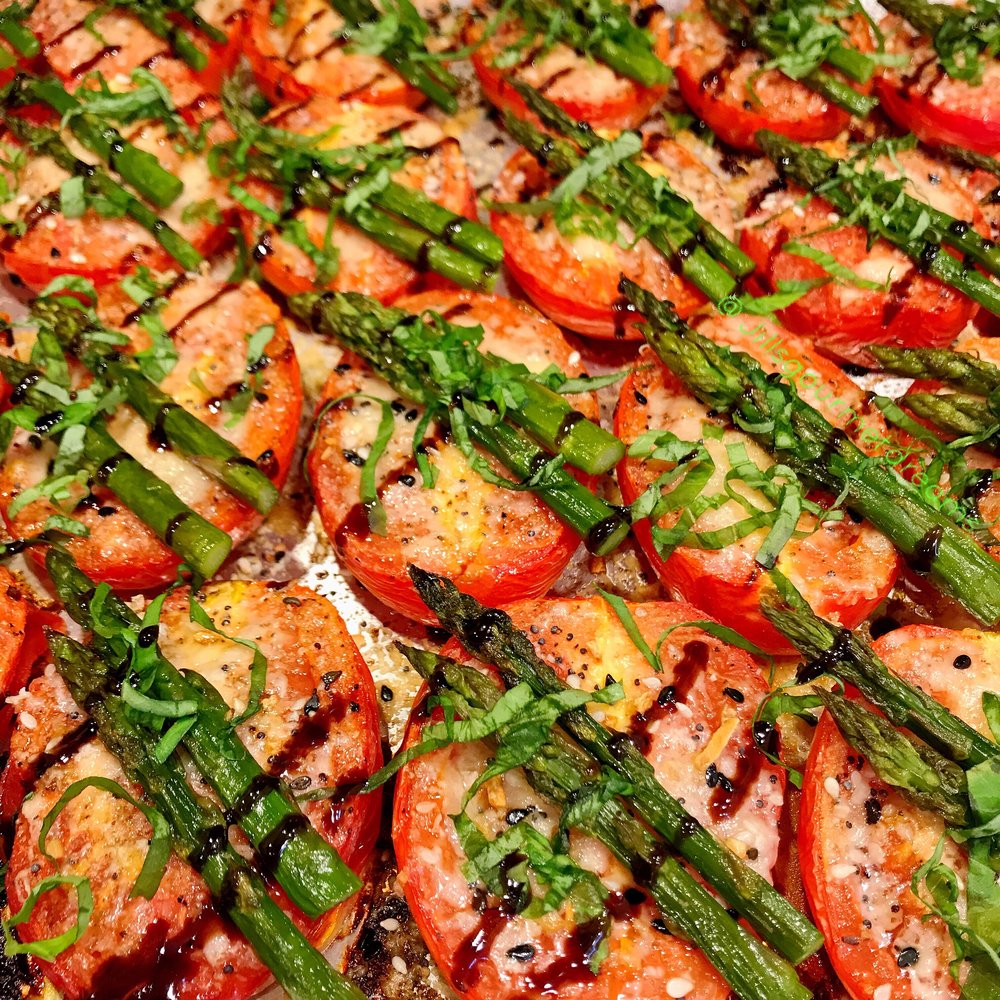 Prep: 10 mins
Completion: 1 hour or less
Serves: 8 sides, 4 Main
Ingredients:
4 Roma Tomatoes ripe and cut in half length wise
Asparagus 1 bunch thin spears, trimmed dry ends removed
Olive Oil 2 Tbsp, for drizzle
Salt 1 Tbsp (fine Sea Salt or Kosher)
Fresh ground Black Pepper 1 tsp (optional)
Garlic Powder 2 Tbsp
Everything Bagel Sesame Seasoning Mix 2 Tbsp
Parmesan Cheese ¼ cup freshly grated
Balsamic Vinegar ¼ cup
Basil Leaves fresh, 6 large, cut into thin ribbons
Let's Get Cooking:
Begin by preheating the oven to 375 degrees F.
Wash and dry the tomatoes and asparagus. Cut the tomatoes in half lengthwise, and cut off dry bottom ends of the asparagus where it appears less green and is rigid. Using a sheet pan with sides, spray the pan with cooking spray, and place tomatoes cut side up on the tray, and lay asparagus single file on the tray as well. Sprinkle both with salt, black pepper if desired, garlic powder, and everything bagel seasoning. Then drizzle lightly with olive oil. Gently toss all veggies with hands, and reset the tomatoes single file, cut side up, on the tray. Do the same with the asparagus.
Place tray in oven, and begin roasting the tomatoes and asparagus until fork tender. This takes approximately 15-20 minutes for the tomatoes, and 25-30 mins for asparagus. Watch them closely, because ovens vary in temperature and sometimes can speed up or slow the cooking time.
When the tomatoes are mostly done, quickly sprinkle them liberally on top with Parmesan cheese, and continue roasting until done and cheese is bubbly. Remove from oven.
Place balsamic vinegar in a small saucepan, and heat on medium heat uncovered until it is reduced by half, and is a thick syrupy consistency. Set aside.
Cut the roasted asparagus to fit the size of the tomato halves, saving the cooked ends for soups or others uses. Place two asparagus spears diagonal on each tomato, drizzle with balsamic vinegar reduction, and top each tomato with ribbons of basil.
These are great room temp, or take them to your next gathering and simply reheat for five minutes in a 350 degree F oven just to warm through.